Long Island's Leading Farm Stands
8 Hands Farm
735 Cox Lane, Cutchogue, 631-494-6155
Fresh breads and pasta, pasture-raised, grass fed meats including sausages and charcuterie, and more.
A true farm-to-fork experience on the East End of Long Island, this
organic farm doubles as a café and provides fresh and local goods.
Anderson's Farm Stand
1179 County Road 58, Riverhead, 631-727-2559
Great variety of strawberries and corn.
This convenient drive-by farm stand in Riverhead has a beautiful selection of fruit, from fresh strawberries sold by the box to ripe watermelons.
Andrews Family Farm and Greenhouses
1038 Sound Ave., Wading River, 631-929-0038
Fresh-picked herbs, vegetables, berries, mixed bouquets, and more on sale at this farm stand.
Andrews Family Farm offers a number of unique and exciting options, from fresh-caught fish and field-cut sunflowers to hanging baskets and local mozzarella.
Babinski's Farm Stand
160 Newlight Lane, Water Mill, 631-875-0262
Local produce from asparagus to zucchini, and fresh baked goods including breads, muffins, cookies, and quiche (order ahead).
This farm stand in the center of the Hamptons offers local Long Island seafood classics like fluke, tuna, and lobster, as well as pantry items ranging from jams to honey, honey comb, and marinara sauce.
Balsam Farm Stand
293 Town Lane, Amagansett, 631-267-5635
Fresh seasonal vegetables, breads, and homemade pickles.
Customers love Balsam Farm's great selection of organic seasonal
produce, dairy, meats, and baked goods.
Bayview Market
891 Main Road, Riverhead, 631-722-3077
Fresh, local produce and artisanal products including jam, honey, fruit pies, sauces and
more.
Growing locally for over 200 years, Bayview Farm's selection of fresh produce, flowers, and artisanal goods changes seasonally – don't forget to ask about wholesale pricing.
Briermere Farms
4414 Sound Ave., Riverhead, 631-722-3931
Fruit and cream pies, baked goods, and jams made with fresh fruit grown on the farm.
Briermere was voted Best Long Island Farm Stand 2021 on bestoflongislands.com for its fresh produce and delicious baked goods.
Condzellas Farm Stands
6233 N. Country Rd., Wading River, 631-929-4697
Seasonal fruit and vegetables of all kinds from asparagus to peas, tomatoes, beans and pumpkins.
Condzella's has taken steps to ensure its operation is sustainable, from selling crops directly to reduce carbon footprint to donating all unsold, edible crops to the hunger charity Island's Harvest.
Crossroads Farm at Grossman
480 Hempstead Ave., Malverne, 516-881-7900
Honey, organic produce, eggs, and fresh corn.
The closest organic farm to New York City, Crossroads is a community staple for its locally-grown produce and land preservation efforts.
La Corte's Farm Stand
339 Montauk Hwy., Moriches, 631-878-9093
Full-flavored, ripe tomatoes, and artisanal apple pie with a maple crust.
This farm stand prides itself on community involvement and unbeatable prices. Ordering online and in-person shopping are both available.
Meyers Farm Stand
146 Piquets Lane, Woodbury, 516-364-1777
Fresh fruits, vegetables, pies, donuts, honey, and more.
This local Nassau County establishment produces fresh produce and daily baked goods in a beautiful location in Woodbury.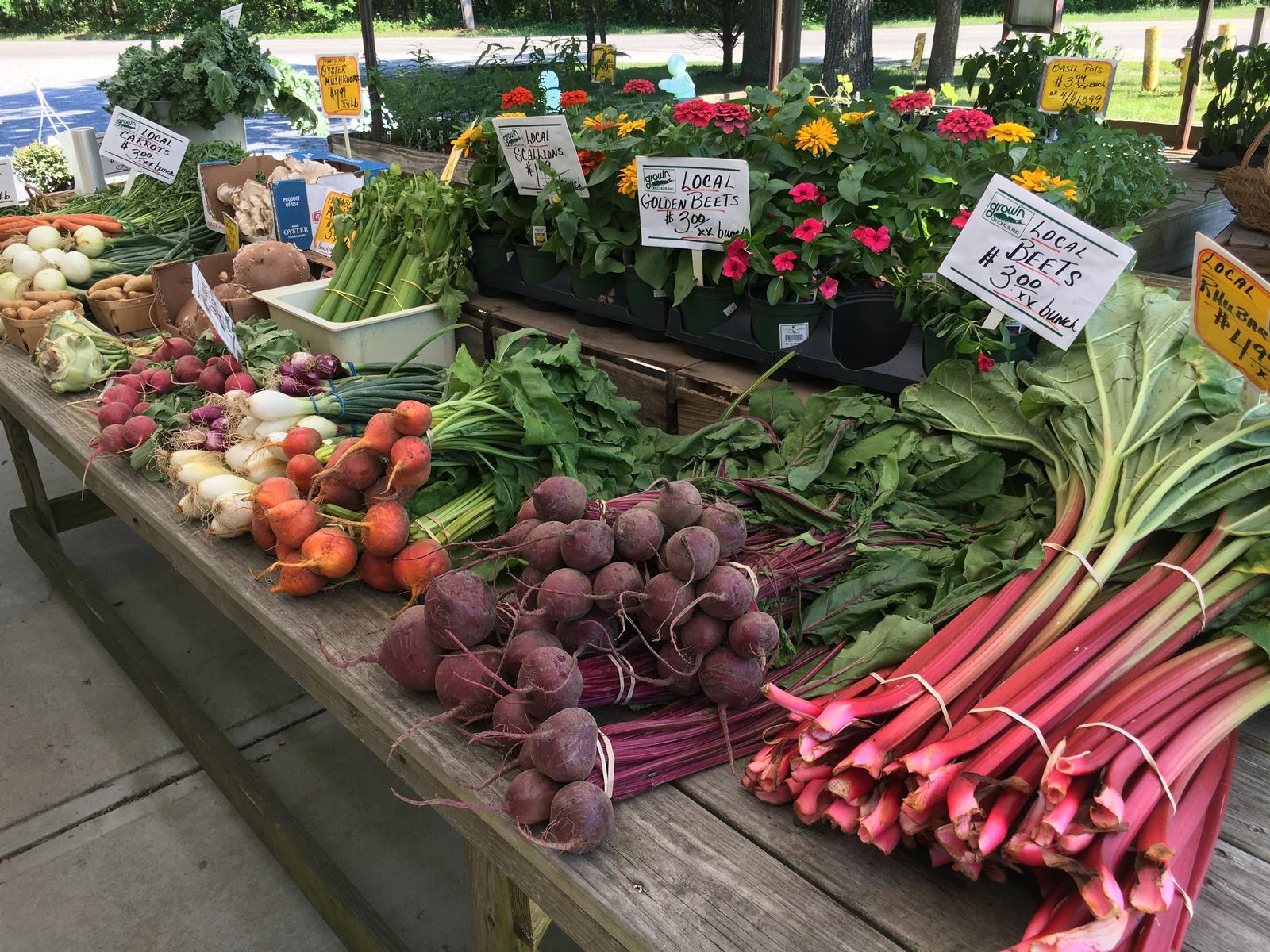 Pumpkin Patch Farm Stand
142 Long Island Ave, Yaphank, 631-924-7444
Fresh fruit and vegetables, locally grown corn, and baked pies.
Pat and Don's Pumpkin Patch Farm Stand is perfect for local produce – visit their website for easy and tasty recipes using seasonal vegetables.
Restoration Farm
140 Bethpage-Sweet Hollow Rd., Old Bethpage
Garlic, tomatoes, winter squashes, and sweet potatoes.
Founded in 2007 by a husband and wife team, this Nassau County farm is firmly committed to sustainable agriculture and avoids herbicides, pesticides, and synthetic fertilizers of all kinds.
Schmitt's Farm Stand
3355 Sound Ave., Riverhead, 631-983-656
Famous homemade horseradish and locally grown pumpkins.
The 165-acre, family-owned Schmitt's farm has been growing and selling fresh produce on Long Island for over 150 years.
Share the Harvest Farm
55 Long Lane, East Hampton
Herbs, jams, honey, and baked goods, all grown on site.
EECO Farm is a non-profit farm selling organic produce from over 42 acres of East Hampton land. Along with fresh vegetables and baked goods, their stand offers potted plants and cut flowers.
-Compiled by Louis Capstick
For more guides about things to do on Long Island, visit longislandpress.com/category/everything-long-island.
Sign up for Long Island Press' email newsletters here. Sign up for home delivery of Long Island Press here. Sign up for discounts by becoming a Long Island Press community partner here.