InteleTravel, a Long Island-based national company that creates the opportunity for virtually anyone to enjoy the freedom, flexibility, and vast benefits of being an independent travel agent, with none of the obligation, has been the travel industry's leading host agency for the past 25 years.
Founded in 1992, InteleTravel is the first of its kind, allowing its own members to book travel arrangements without being employed by a travel agency. The founders created a unique opportunity for travel enthusiasts that combines finding the guaranteed best travel deals for their friends, family, and clientele with a career that capitalizes on their own love for travel by allowing them to earn commission on trips they take themselves.
InteleTravel agents have the ability to book various travel arrangements for clients, including airfare, lodging, tours, vacation packages, and travel insurance—just as any agent working for a standard travel agency. What sets InteleTravel apart is the flexibility they offer agents, as well as their competitive prices.
Rather than implementing strict schedules, license requirements, and sales quotas that a typical travel agency would implement, InteleTravel agents work on their own time and with as many clients as they want to. Most InteleTravel agents don't consider it a job, but a lifestyle that embraces anything and everything travel.
Welcome To The World Of Travel
InteleTravel not only appeals to travel lovers, but those looking for full-time work they can do from home or a part-time position that enables them to earn extra money without any added stress.
Some agents choose to book travel arrangements for just themselves or family and friends who are looking to go on a business trip or vacation and in need of travel advice from someone they trust rather than an impersonal booking site or a stranger. Other agents grow their businesses to include a heavy roster of clients.
With help from InteleTravel, anyone can learn how to become a travel agent. Educational resources, such as Seminars-at-Sea, Ship Inspection Events, and InteleTravel Boot Camps, encourage agents to learn about travel by actually traveling themselves and meeting other agents. There are also online resources available. Weekly webinars feature different suppliers and discuss upcoming promotions while Supplier Courses allow agents to focus on learning about one travel supplier at a time.
InteleTravel's Guarantee
InteleTravel is a risk-free endeavor because profits are guaranteed. However, if for any reason you are not profitable after your first year as an agent, InteleTravel will refund the money you lost through their Risk-Free Profit Guarantee.
Additionally, InteleTravel understands that there may be some people who sign up and realize that being an independent travel agent just isn't for them. And as much as they hate to see people cancel their memberships, they guarantee they will refund any unsatisfied agents for their enrollment fees as long as they contact InteleTravel within the first month of membership.
Through partnerships with major travel brands, InteleTravel is able to get discounts for customers—both agents and their clients—that just aren't available anywhere else. If you come across lower prices elsewhere, InteleTravel will match those prices in order to ensure that you and your clients will always pay at the most affordable rates.
These guarantees align with InteleTravel's goal to make sure that every customer is more than satisfied with its services.
 

FREE DOWNLOAD

 
Everything you need to know about becoming a successful work from home travel agent.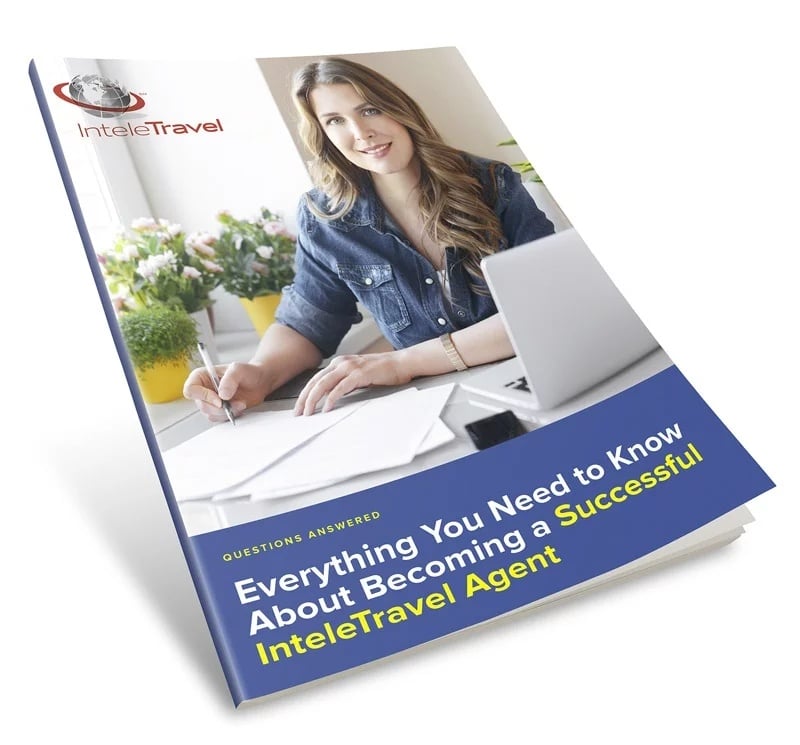 With this eBook, you will be prepared when it comes time to book your first trip – for you or a client.
How do I book a trip?
What are the marketing tools I can receive?
Is InteleTravel going to help me learn about the travel industry?
What is my commission is going to be?
Can you give me an example of the kind of exclusive offers customers receive?
Why would anyone want to buy travel from me?
How do I get started?
InteleTravel Has Partnerships With These Major Travel Brands:
Royal Caribbean Cruise Line
Norwegian Cruise Line
Crystal Cruises
Carnival Cruise Line
Princess Cruises
Viking River Cruises
Celebrity Cruises
Disney Cruise Line
AMA Waterways
Holland America Line
Travel Impressions
Funjet Vacations
Travel Insured
Avis
Hertz
Budget
British Airways
JetBlue Airways
American Airlines
Air France
Delta Airlines
United Airlines
Alaska Airlines
Club Med
Sandals Resorts
Hilton Hotels and Resorts
The Ritz-Carlton
Fairmont Hotels and Resorts
Sheraton Hotels and Resorts
SuperClubs
Beaches
W Hotels
Marriott Hotels
The Cove Atlantis
Inteletravel
777 East Atlantic Ave, Suite 300
Delray Beach, FL 33483
Phone: 1-800-873-5353