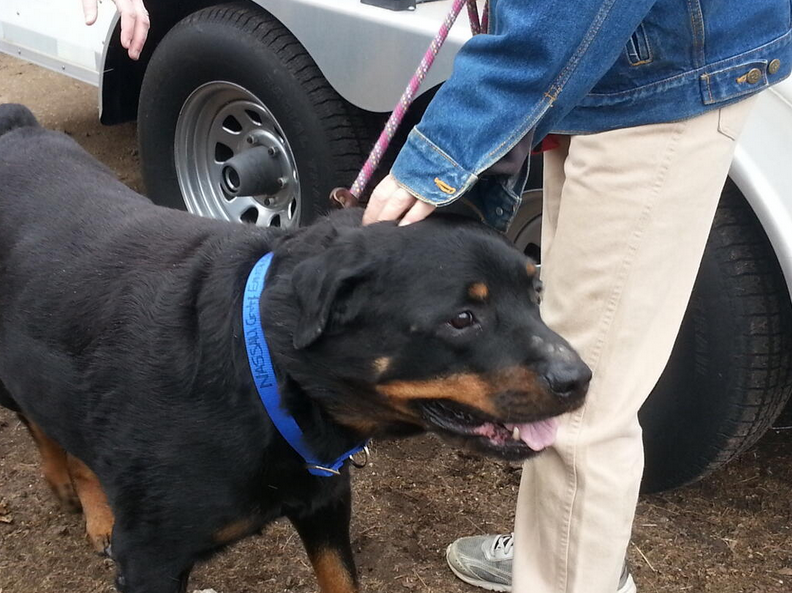 Four months had passed and all but one displaced animal at an emergency Nassau County pet shelter had been released when a group of dedicated volunteers campaigned to find the dog a permanent home.
They were intent on living out a promise made to the animals when Hurricane Sandy slammed Long Island and turned their owners' lives upside down. The pact: leave no animal behind.
In a bitter sweet celebration Saturday highlighted by the Rottweiler's happy farewell from the shelter, Nassau County Executive Ed Mangano thanked all volunteers for their spirit, dedication and steadfast commitment to care for each and every animal that walked through the doors of the abandoned gymnasium at Mitchel Field in Garden City—even the turtles, rabbits, parrots and Betta Fish.
Nassau County "kept the shelter open to ease the stresses" for owners impacted by Sandy, Mangano said inside the makeshift shelter, which housed its last guest, Bruno, for the final time Friday night. Bruno is headed to a Northwind Kennels, a rescue organization in Bedford, which will keep him comfortable as they vet potential families that could adopt him.
All that remained at the shelter Saturday were disassembled metal crates, more than a dozen wooden pallets holding pet food, water and other necessities, and a brick wall festooned with photos of the some of the 55 cats and dogs adopted or released to their owners or foster home. In total, 515 pets were sheltered at the gymnasium during and after Sandy. The remaining pets returned to their owners.
Eventually, the celebration became all about Bruno as members of the press were finally able to meet the 7-year-old dog for the first time, albeit at a safe distance as not to stress out the pup.
"He's been so traumatized from being ripped away from his life," Nassau County SPCA spokesman Gary Rogers said of Bruno, who was displaced when he and his owner were left homeless by the Oct. 29 superstorm. The Rottweiler's owner, Christopher, lost his job and has been unable to find work since.
The pair finally split up recently when the owner told volunteers that he had to think about what's best for the dog and "not myself," according to Rogers.
Their relationship ended with a tearful goodbye, Rogers said, with Christopher on the floor crying with Bruno.
Bruno's story took on a life of its own after the Nassau County SPCA sent out a news release pleading for another group to help find him a home. Rogers estimates that the SPCA has received more than a thousand inquiries about Bruno through phone calls and emails, including one such inquiry from a local soldier serving in Afghanistan.
"Bruno has reached new heights," Mangano said.
That Bruno and other pets were allowed to live in the shelter for as long as they did was a credit to Nassau County, volunteers said, because pet shelters rarely remain open beyond several weeks following an emergency.
Rogers said he's never witnessed 100 percent of pets find a home following an emergency and noted that the shelter took in animals from Suffolk County and New York City after they closed their respective pet shelters after a few weeks.
"That put an added burden here," he said.
Mangano thanked the SPCA, Wantagh-based Pet Safe Coalition, HUG and county employees that volunteered their time during the four months the shelter was open.
All that's left is finding Bruno a permanent home.
"I think we're going to try and keep him in Nassau County," Mangano said.