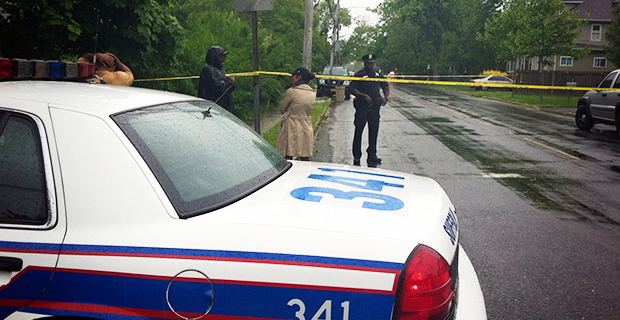 One after another, nosey Central Islip neighbors walked up to the police tape on Clayton Avenue the rainy Tuesday after Memorial Day weekend, same as gawkers at any other crime scene.
But morbid curiosity turned to deep-seated fear upon learning that Suffolk County police were investigating a third man in his 20s being gunned down within 39 hours and two square miles of one another in the same neighborhood where gunmen in recent local gang wars are still facing justice in the federal courthouse down the street.
"We better say a prayer," said one concerned citizen, likely echoing clergy in the convent abutting the boarding house where Matthew Gilmore, 25, was shot and killed May 28.
In the month following that grim unofficial start to summer on Long Island, police, lawmakers and civic leaders have been scrambling to stem the spate of deadly violence from spreading. New York State anti-gang legislation advanced in Albany, the high-profile neighborhood watch group Guardian Angels announced plans to expand into the community, and Suffolk police brass reversed a controversial decision—first reported by the Press last fall—to quit the FBI's Long Island Gang Task Force.
"We don't want to have a repeat of what we had in 2009," Legis. Rick Montano (D-Central Islip) said, referring to the 14 murders in Brentwood and Central Islip between summer '09 and spring '10, most of which have been solved. "I've been knocking on doors in the community and people are afraid."
Police have since made arrests in two of the three cases as of press time, but have also proven unusually tight-lipped about releasing details, just one of the departures from law enforcement behavior following the bloodshed five years prior.
Raesean Allen, 22, of Central Islip, was charged with the murder of Gilmore a week following the shooting. "I took some of the victim's marijuana and ran out the front door," Allen allegedly told investigators, according to court documents.
"His involvement was simply to purchase marijuana as opposed to any type of murder," Allen's attorney, Michael Brown, told News12 Long Island.
Late last month, Jeffrey Rosales, 27, pleaded not guilty to the murder of Keenan Russell, an up-and-coming rapper, shot after midnight May 28. As of press time, no arrests were made in Derrick Mayes' murder, 25 hours prior. Both Russell and Mayes were 21.
In the first two cases, police have said they suspect gang involvement. Not that anyone was surprised to hear it.
"Gangs don't need to fight if there's no gang activity," Andy Grascia, president of the New York Gang Investigators Association, tells the Press after being asked about local rumors that a new gang in town may be involved. "If you're the only gang in the neighborhood, there's no problems." He notes that the Bloods in New York are currently fighting amongst themselves for control.
Det. Lt. Jack Fitzpatrick, commander of Suffolk police Homicide Squad, says that despite the unusually close-together murders, the county is enjoying a drop in such slayings.
His unit investigates an average of 35 murders annually. Last year, there were 23, the third-lowest since '75. At this year's half-point, there were nine murders, five of which have resulted in arrests—although his detectives historically have solved 82 percent of cases.
"Generally, the victims and the murderers are known to each other," Fitzpatrick says, describing common motives such as drugs, domestic violence and long-standing feuds. "That changes a bit when you involve gangs in the equation."
LAST GANG IN TOWN
State lawmakers, grappling with an embarrassing resurgence of corruption scandals resulting in arrests that have plagued Albany for years, were unable to pass legislation reforming their seedy operations before summer break last month. But the state Senate OKed a bill cracking down on gangs three weeks after the trio of murders.
"Our focus has been on not only punishment and accountability to those who owe a debt after committing a gang-related crime, but also elements of prevention and rehabilitation," state Sen. Lee Zeldin (R-Shirley) says of the Criminal Street Gangs Enforcement and Prevention Act.
Now the onus is on the Assembly to consider taking up the bill, should a special session be called before the state Legislature officially convenes again in January.
"We can't arrest our way out of it," says Assemb. Phil Ramos (D-Brentwood), a former Suffolk police detective working with Zeldin on the legislation, which increases sentencing in gang crimes, boosts gang prevention in schools and creates a gang prevention fund. "I like to put my efforts behind prevention and rehabilitation because those are the areas that help our areas most."
The ex-undercover narcotics investigator hopes that before final passage, the bill would include a measure creating gang courts similar to those already in Yakima County, Wash., St. Louis and being explored elsewhere nationwide.
It's an approach similar to the way drug courts offer alternatives to incarceration for substance abusers caught breaking the law. Or veterans courts for law-breaking returning soldiers.
"Many of the kids don't fit into mainstream school," Yakima Gang Court Judge Susan Hahn wrote in a 2012 report on the nation's first such program's initial year. "We employ many options to help them succeed, including alternative schools, job training, GED and online schooling."
Grascia, head of the state gang investigators association, says a multifaceted approach is the best way to weed out wannabe Tony Sopranos.
"The gang world is not an easy world to understand and to deal with," he says. "There's the law enforcement component, the school component and the community component. If you don't have those three components working together, it can be a vicious cycle."
BLOODSTAINS
Besides folks joining hands in prayer in weekly peace vigils, and Central Islip school resource officers getting backup after the shootings, the red-beret-clad Guardian Angels—a 145-worldwide-chapter unarmed neighborhood patrol group formed by Curtis Sliwa—are adding to a 3-year-old first LI chapter in Huntington Station, with three more on the way in Brentwood, Central Islip and West Hempstead.
"We are going to continue to put boots on the ground and justify this generous award," Silwa told reporters at a recent news conference announcing his winning $25,000 from the "Manes-American Peace Prize" awarded by Lynbrook-based Dr. Harvey Manes.
"You can't be afraid of fear," says Jesse Gavares, nicknamed "Tarantella," a Guardian Angel prerequisite, when asked if he was afraid to patrol the mean, hilly streets that forced the closure of Huntington's Jack Abrahams School.
Suffolk police were skeptical, to say the least.
"They could present a danger to themselves if they confront people who are armed and dangerous," says Deputy Chief Kevin Fallon, Suffolk police's chief spokesman, adding that officers in the Second Precinct patrolling Huntington never see Angels on patrol.
"Do they know what their limits are with civilians?" he asked. "Are they violating civilians' rights without knowing it? What type of vetting process do they put people through?"
Sliwa, who brands himself as a good/tough guy who took on late mob boss John Gotti, isn't backing down.
"We've been doing it for three years in Huntington Station; it's not like we showed up yesterday," he responds, recalling broken-up fights and citizens arrests made by the half-dozen-strong Huntington Station chapter. "The township and the people of Huntington are recognizing the Guardian Angels, so how can SCPD not also?"
His group took partial credit for crime being down 9 percent in the Second Precinct between 2010 and 2012, although Suffolk police also reported crime was down 12 percent in the Third Precinct covering Central Islip and 12 percent overall in the western five towns for the same period.
Of course, it wouldn't be the first time Suffolk police bucked outside help and later changed their minds.
"When we removed the detectives from the [FBI] Long Island Gang Task Force, we felt as though that was the best deployment of our officers," Chief of Department James Burke, who pulled three detectives from the unit last fall, told reporters June 3, a week after the three murders.
"Now… the key critical thing is making the public know that we are doing everything possible to make them safe," he said. "We thought it was the prudent thing to install [two detectives] back to the task force."
The sniping wasn't left to the streets, either.
"Recklessly, too much information has been leaked to the media that has in fact hindered this investigation," Burke said, referring to a Newsday report quoting anonymous sources saying that MS-13-linked guns were used in the first two Memorial Day slayings.
"If one of the bad guys in these cases know that we know the type of gun that was used, well, do you think that gun is gonna be around anymore?" Inspector Robert Brown, commander of the Third Precinct, rhetorically asked residents at their monthly "First Tuesday" community meeting a day after that press conference. "That gun will never be found."
—With additional reporting by Danielle Cox and Amanda Wolfer