Long Island Farm Stands to Visit This Autumn
Andrews Family Farm and Greenhouses
1038 Sound Ave., Wading River, 631-929-0038
Fresh-picked herbs, vegetables, berries, mixed bouquets, and more on sale at this farm stand.
Andrews Family Farm offers a number of unique and exciting options, from fresh-caught fish and field-cut sunflowers to hanging baskets and local mozzarella.
Babinski's Farm Stand
160 Newlight Lane, Water Mill, 631-875-0262
Local produce from asparagus to zucchini, and fresh baked goods including breads, muffins, cookies, and quiche (order ahead).
This farm stand in the center of the Hamptons offers local Long Island seafood classics like fluke, tuna, and lobster, as well as pantry items ranging from jams to honey, honey comb, and marinara sauce.
Balsam Farm Stand
293 Town Lane, Amagansett, 631-267-5635
Fresh seasonal vegetables, breads, and homemade pickles.
Customers love Balsam Farm's great selection of organic seasonal produce, dairy, meats, and baked goods.
Bayview Market
891 Main Road, Riverhead, 631-722-3077
Fresh, local produce and artisanal products including jam, honey, fruit pies, sauces and
more.
Growing locally for over 200 years, Bayview Farm's selection of fresh produce, flowers, and artisanal goods changes seasonally – don't forget to ask about wholesale pricing.
Borella's Farm Stand
485 Edgewood Ave, St James, 631-862-7330
This family owned farm has been bringing beautiful flowers and crops to St James for years. The husband and wife duo that started this farm stand have passed the business down the family tree to their two daughters Barbra and Laura, and together they are continuing the legacy of the farm while bringing delicious crops to the public.
Briermere Farms
4414 Sound Ave., Riverhead, 631-722-3931
Fruit and cream pies, baked goods, and jams made with fresh fruit grown on the farm.
Briermere was voted Best Long Island Farm Stand 2021 on bestoflongisland.com for its fresh produce and delicious baked goods.
Condzellas Farm Stands
6233 N. Country Rd., Wading River, 631-929-4697
Seasonal fruit and vegetables of all kinds from asparagus to peas, tomatoes, beans and pumpkins.
Condzella's has taken steps to ensure its operation is sustainable, from selling crops directly to reduce carbon footprint to donating all unsold, edible crops to the hunger charity Island Harvest.
Crossroads Farm at Grossman
480 Hempstead Ave., Malverne, 516-881-7900
Honey, organic produce, eggs, and fresh corn.
The closest organic farm to New York City, Crossroads is a community staple for its locally-grown produce and land preservation efforts.
Deer Run Farms
282 S Country Rd, Brookhaven, 631-707-2195
This farm fully operated by the Nolan family makes hard work pay off with their quality herbs and crops being available year round. The farm stand boasts freshness as their top priority and this is certainly shown in their gorgeous looking fruits and vegetables.
LaCorte's Farm Stand
339 Montauk Hwy, Moriches, 631-878-9093
Delicious homemade pies, cookies, breads and loaves.
LaCorte's offers a wonderfully expansive menu of baked goods. This farm stand is run completely by the Moriches community, and this is shown by the quality of their products.
Lenny Bruno Farms
740 Wading River Rd,. Manorville, 631-591-3592
This vegetable market is open 7 days a week from May to November. Conveniently located just off the Long Island Expressway this market has a very long list of crops that are rotated throughout the season with blueberries and broccoli towards the beginning of their season and pumpkins and squash in the fall.
May's Farm
6361 NY-25A, Wading River, 631-929-6654
Local fruits and veggies both seasonal and year round. 
The May family has had this farm in business since the late 1800's making its legacy nothing but historic. Their fields have a wide variety of fruits and vegetables and are sold at the farm everyday year round.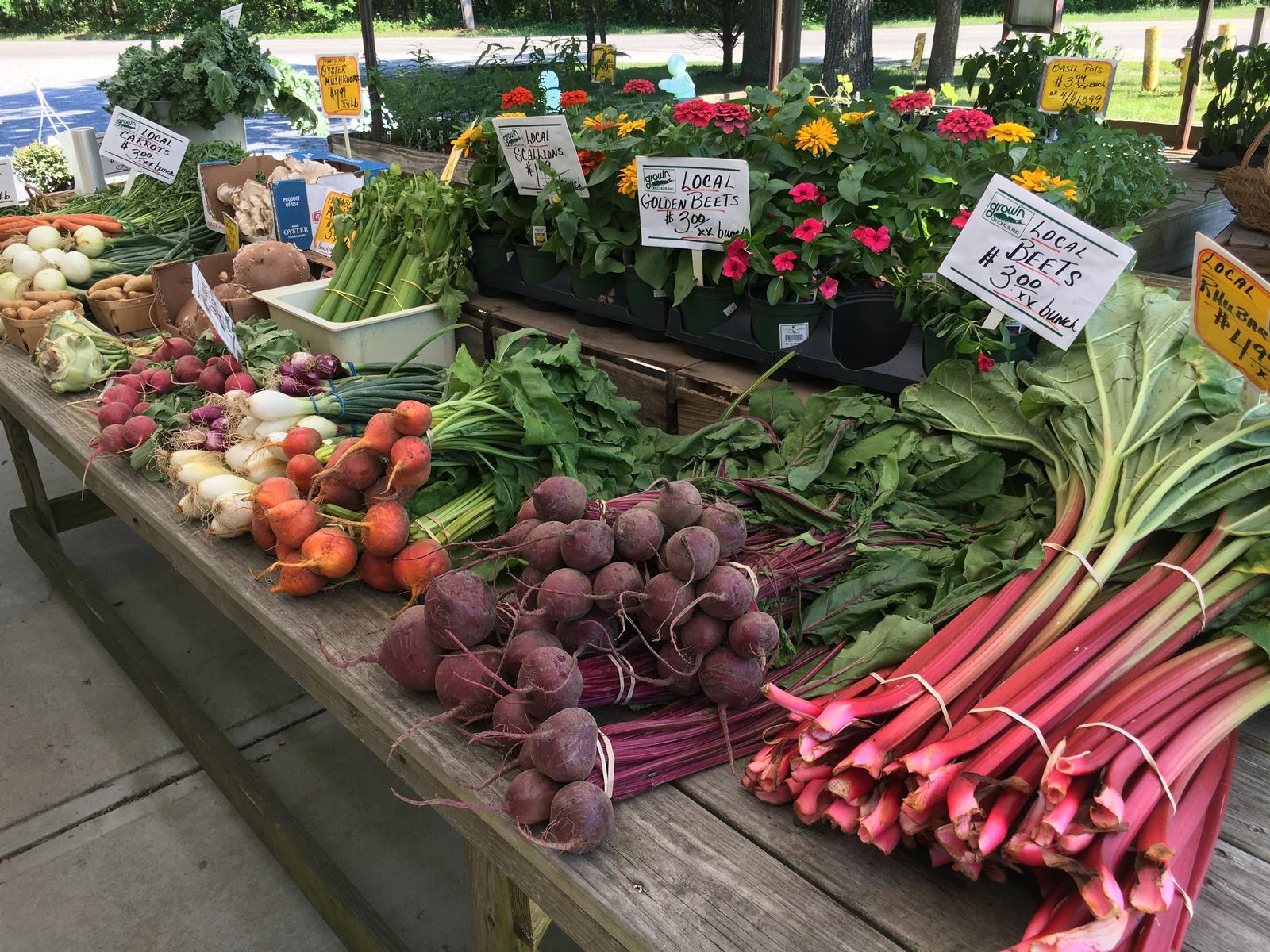 Pumpkin Patch Farm Stand
142 Long Island Ave, Yaphank, 631-924-7444
Fresh fruit and vegetables, locally grown corn, and baked pies.
Pat and Don's Pumpkin Patch Farm Stand is perfect for local produce – visit their website for easy and tasty recipes using seasonal vegetables.
Restoration Farm
140 Bethpage-Sweet Hollow Rd., Old Bethpage
Garlic, tomatoes, winter squashes, and sweet potatoes.
Founded in 2007 by a husband and wife team, this Nassau County farm is firmly committed to sustainable agriculture and avoids herbicides, pesticides, and synthetic fertilizers of all kinds.
Schmitt's Farm Stand
3355 Sound Ave., Riverhead, 631-983-656
Famous homemade horseradish and locally grown pumpkins.
The 165-acre, family-owned Schmitt's farm has been growing and selling fresh produce on Long Island for more than 150 years.
Schneider's Farm
316 Old Country Rd., Melville, 631-673-5844 
Family owned for over 60 years. With flowers and vegetables, fresh, local produce, and seasonal items this local farm has it all. Fresh crops brought to you by knowledgeable employees sets this farm apart from the rest.
Share the Harvest Farm
55 Long Lane, East Hampton
Herbs, jams, honey, and baked goods, all grown on site.
EECO Farm is a non-profit farm selling organic produce from over 42 acres of East Hampton land. Along with fresh vegetables and baked goods, their stand offers potted plants and cut flowers.
-Compiled by Louis Capstick & Dylan Gallo