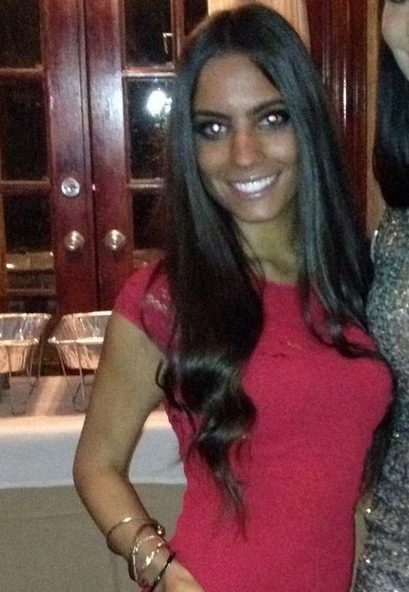 The gunshot that killed a Hofstra University student during a robbery at her off campus rental house was fired by a Nassau County police officer, authorities said during a press conference Saturday night.
The masked gunman, who police identified Saturday as a parolee, had 21-year-old Andrea Rebello in a headlock and tucked her close to his chest when he spotted the police officer in the home and pointed that gun at him, yelling, "I'm gonna kill her," said Det. Lt. John Azzata, commanding officer of the Homicide Squad, describing the harrowing events that unfolded early Friday morning.
That's when the officer fired his gun—eight times—striking and killing the suspect, 30-year-old Dalton Smith, and accidentally shooting Rebello in the head, Azzata said.
"We're going to conduct a complete investigation of what happened during that time," Nassau County Police Commissioner Thomas Dale said, adding that he went to Rebello's home in Tarrytown in Westchester County to personally inform her parents about how she was tragically killed.
Dale noted that the officer, a 12-year veteran of the Nassau County Police Department, was doing "ok," and would receive counseling and medical treatment if needed.
Rebello's death has gripped the entire Hofstra community as it prepares for Sunday's commencement, which will go on as scheduled.
At Saturday's press conference, Azzata described the events in gripping detail, beginning with how Smith easily entered the home and the tragic conclusion.
Azzata said the four students living in the house had just returned home just after 2 a.m. when one of the females suggested that the male resident move his car because of parking restrictions on California Avenue. The door was left open as the male went upstairs to get his keys, Azzata said.
"When he returned back to the first floor of that home there was a male inside that house," Azzata said of Smith, who was outfitted in dark clothes and a ski mask and was armed with a gun that had its serial number defaced.
Smith, a parolee who was released from jail in February, "almost immediately violated parole," Azzata said.
The male student was instructed by the gunman to sit on a sofa along with two other females, officials said. Smith then inquired about money and jewelry and then directed the students to the second floor where they kept their belongings.
The students had a limited amount of cash, officials said, so Smith asked the students if they could withdraw money from an ATM. One of the females said she could and was told by Smith "if she did not return within eight minutes he would kill one of the individuals in the house," Azzata said.
"He pointed the gun at one of the individuals and told her 'go get the money,'" he added.
The female left and dialed 911 at 2:25 a.m. and police were dispatched to the house at 2:29 a.m., officials said.
Two First Precinct officers arrived, knocked on the door and were soon met by Rebello's twin sister, Jessica, who was instructed to tell police that nothing was wrong.
Jessica left the house "screaming 'he's got a gun,'" Azzata said.
When officers entered the house they believed that "there was just a gunman upstairs," he noted.
Smith then forced the male student downstairs and kept yelling for him to "keep moving," police said. The student slipped and was able to escape behind the sofa.
Rebello, the only victim that hadn't escaped, was placed in a headlock by Smith who then pointed the gun to her head as he made his way downstairs and toward a rear door, using her as a shield.
When Smith realized there was a police officer in the hallway he moved Rebello closer to the front of his body and eventually pointed the gun at the cop before they were both shot and killed by the officer, Azzata said.
Smith never got off a shot. The gun was loaded, police said.
The house was not targeted, Azzata said, characterizing the robbery as a "crime of opportunity."
Investigators will continue their investigation. The officer who fired the fatal shots is technically "out sick," according to Dale.
Smith has an "extensive criminal history," which includes three separate robbery arrests from 1999 to 2003. He was also arrested for promoting prison contraband in May 2000 and assault in 2003, according to police. A warrant was issued for Smith on April 25 because he had escaped parole, police said.
"A young member of the Hofstra family has been taken from us in a senseless act of violence," Hofstra University President Stuart Rabinowitz said in a statement Friday. "Our hearts and minds and our thoughts and prayers are with her family, her friends, and her classmates."
"While our hearts are laden with grief, this weekend's commencement ceremonies will go on as scheduled," he added. "The accomplishments of our graduates must be recognized, and together our community will heal and find the strength to move forward."
A funeral mass for Rebello, a public relations major, is scheduled for Wednesday in Sleepy Hollow, according to The Journal News.