By Michael Harris
Growing up on Long Island, many children enjoy spending time at the beach, but since kids tend to get bored quickly, they often look for new and exciting things to do.
For parents, keeping their kids entertained—and not by just letting them waste their days playing video games or watching TV—can be a full-time job.
But since parents and kids often disagree about what constitutes fun, here are some ideas for family friendly things to do on Long Island.
PET, FEED AND SEE THE ANIMALS
It's a rare kid who doesn't like going to the zoo. Although Long Island doesn't have a full-fledged zoo, it offers petting zoos, fish hatcheries and an aquarium. Here are seven:
1. Long Island Aquarium
This aquarium is home to many fascinating living things and awesome attractions. Among these are the Lost City of Atlantis Shark Exhibit, which lets visitors dive into the tank and swim with the sharks with the protection of a steel shark cage. Visitors can also see penguins, seals, gators, sting rays, sea lions and other marine wildlife. 431 Main St., Riverhead. longislandaquarium.com
2. White Post Farms
This warm and welcoming farm in Huntington has been around for more than 130 years. White Post Farms is as kid-friendly as it can be. Whether bouncing on the bouncy castle or petting zebras at the petting zoo (yes, they have zebras), riding a pony or experiencing the action-packed bird sanctuary, there's no shortage of fun. They also have a mini-train, tiny houses for kids to play in and, of course, a farm stand. 250 Old Country Rd., Melville. whitepostfarms.com
3. Long Island Animal Farm Petting Zoo
From petting zoo animals such as goats and pigs to watching more exotic creatures such as monkeys and cougars, this petting zoo has almost anything a child could dream of for a day of animal-filled fun. There's even a puppet theater, a picnic area and a playground. 296 Wading River Rd., Manorville. afpz.org
4. Cold Spring Harbor Fish Hatchery
Children of all ages will love these outdoor exhibits such as fish ponds, turtle ponds and trout pools. The hatchery is also home to an aquarium that contains more than 30 different species of fish. They regularly host various educational programs for kids. 1660 Route 25A, Cold Spring Harbor. cshfishhatchery.org
5. Jungle Bob's Reptile World
As the name suggests, Jungle Bob's Reptile World is far and away one of the most fascinating places on Long Island. The shop is the largest reptile-only pet store in New York with more than 100 animals on display. Jungle Bob's is also a worthwhile destination for kids to spend some time because it boasts an outdoor educational nature center. Jungle Bob invites Long Islanders of all ages to come and learn about reptiles of all shapes and sizes. 2536 Middle Country Rd., Centereach. junglebobsreptileworld.com
6. Holtsville Wildlife and Ecology Center
Home to bears, foxes, bald eagles and more, the Holtsville Wildlife and Ecology Center offers visitors the chance to see animals that cannot be found anywhere else on Long Island. At the center there are gardens, pools and picnic grounds. 249 Buckley Rd., Holtsville,
brookhaven.org
7. Seal Tours
It's one thing to see animals in a zoo, but it's quite another to see them in their own habitat. Many people may not realize that the waters surrounding Long Island are full of marine life, including seals. Several groups offer tours of local seal hot spots around our shores where seals congregate. Here are a few outfits that offer seal tours on foot and by boat: Coastal Research and Education Society of Long Island, Riverhead Foundation for Marine Research and Preservation and Captain Lou Fleet.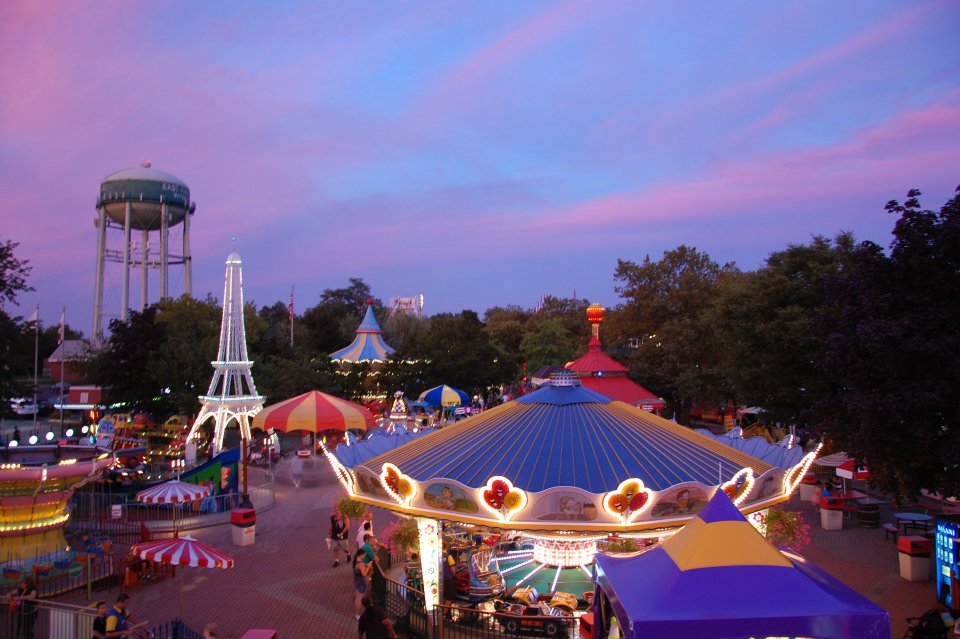 HAVE AN ADVENTURE
We may not have our own Six Flags Great Adventure, but Long Island's amusement parks guarantee a great family outing. Here are four:
8. Adventureland
A staple of Long Island entertainment for decades, Adventureland still stands as one of the top attractions in our area. They have rides and roller coasters big and small, dozens of games as well as an arcade. Open spring through fall. 2245 Broad Hollow Rd., Farmingdale. adventureland.us
9. Splish Splash
From eight-story-tall water slides ending in splash pools, to smaller children's lagoons, Splish Splash provides a super-soaked day of excitement for all ages. They have more than a dozen rides, slides and wave pools. Open during summer only. 2549 Splish Splash Dr., Calverton. splishsplash.com
10. Bayville Adventure Park
This waterfront destination is one of the most complete attractions on Long Island. The park is equipped with a pirate-themed miniature golf course, indoor rock climbing, bumper boats and much more. It converts to a giant haunted house for Halloween and a North Pole theme park for Christmas. 8 Bayville Ave., Bayville. bayvilleadventurepark.com
11. Long Island Adventure Park
Zip lines, rope bridges, hiking trails and more, Long Island Adventure Park offers the perfect opportunity to venture outdoors and enjoy a full day of fun for the entire family. 75 Colonial Springs Rd., Wheatley Heights. longislandadventurepark.org
TAKE THEM OUT TO THE BALLGAME
So what if Long Island doesn't have a major league sports team anymore? Sports fans can still support two local top-notch professional sports teams: the New York Lizards and Long Island Ducks. Both provide fan-friendly amenities and affordable family-ticket packages.
12. New York Lizards
The Lizards are one of nine participants in Major League Lacrosse. The club plays its home games at Hofstra University in Hempstead, with single game or season tickets available. Last year, the team acquired lacrosse legend Paul Rabil, who racked up 29 goals in his first year with the Lizards. nylizards.com
13. Long Island Ducks
The three-time Atlantic League champion Long Island Ducks have a plethora of former MLB big leaguers on the roster. In the past, stars such as Dontrelle Willis, Lew Ford, Trayvon Robinson, Blake Tekotte and Kevin Baez have donned the Ducks uniform. Kids can joing team mascot QuackerJack to root for the club to bring the Atlantic League title back to Bethpage Ballpark in Central Islip. It's a great venue for enjoying America's pastime. liducks.com/home
14. Long Island Roller Rebels
Long Island's first all-female roller derby league, the Roller Rebels are members of the Women's Flat Track Derby Association and consist of two travel teams, the All Stars and Rock-A-Betty Bruisers, who represent Long Island in competitive interleague play. Fans cheer team members on as they skate around an oval track and attempt to score points by outpacing the opposing team. Home games are played at Skate Safe America in Old Bethpage. longislandrollerrebels.org
15. Belmont Race Track
OK, so this is a sporting event that lacks a team and a ball, but Belmont Racetrack in Elmont offers family fun days, breakfast buffets and a children's playground. Not to mention the excitement of cheering on your favorite horse from the grandstand. Win or lose, it's a sure bet they'll have a day they'll long remember.
nyra.com
16. Riverhead Raceway
Don't think auto-racing is a sport? Tell it to the drivers white-knuckling it with the petal to the metal as they speed around this quarter-mile track. They do it all, from monster truck rallies to stock car races, figure-eight races and demolition derbies. It isn't the Indy 500, but it still gets spectators' engines revving. riverheadraceway.com
ENJOY THE GREAT OUTDOORS
No better way to channel children's seemingly boundless energy than by getting them involved in some good old fashioned outdoor physical activity.
17. Surf School
Since this is an oceanfront island, Long Island is home to a number of surfing schools. What better way to spend a summer afternoon than learning to take advantage of this perk? Some of LI's many surfing instructors include Bunger Surf Camp, Skudin Surf School, Surf 2 Live, Island Surf School and Flying Point Surf School.
18. Fishing
Whether chasing snappers in the bay or hooking big game fish in the ocean, a day spent fishing is a great way to bond with any child. With more than 1,600 miles of shoreline, there are more places to drop a line in Long Island waters than we can list here. But popular choices include taking a charter with the Captree Fleet, Captain Lou's in Freeport, Montauk's many fishing boats for hire, or those operating in the Long Island Sound. As for freshwater fish, trout is a big draw in Connetquot River.
19. Kayak tours
Kayaking allows paddlers to take in the beauty of Long Island from the water. It's guaranteed to provide as much fun as beautiful scenery. Some local kayak rental companies include Long Island Kayak Rentals, Nissequogue River Canoe and Kayak Rentals, JK Kayak and Shelter Island Kayak Tours.
20. Ice Skating
There are more than a dozen ice rinks across Long Island. But whether it be indoors or outdoors, winter or summer, ice skating is always a good time. Some of the best ice skating rinks on LI include Christopher Morley Park Ice Rink in Roslyn, Superior Ice Rink in Kings Park and The Rinx in Port Jefferson.
21. Roller Skating
Few things provide the simple joy of strapping on a pair of roller skates or roller blades and cruising around a roller skating rink. The look on those kids faces while they're freewheeling with their friends says it all. Where better to go skating than United Skates of America in Seaford or Hot Skates in Lynbrook?
DAY AT THE MUSEUM
When kids hear they're being taken to a museum, some balk at the thought of some dusty old boring building full of ancient artifacts. But if you take them to these three local museums, they'll want to return again and again!
22. Long Island Children's Museum
This museum takes seriously the business of making learning fun. Aside from their hands-on permanent educational exhibits, they also have rotating art exhibits, live performances in their theater and a slew of other things to do. Bonus: LICM is located on Museum Row next to the Cradle of Aviation Museum, the Nassau County Firefighters Museum and the Nunley's Carousel. 11 Davis Ave., Garden City. licm.org
23. Children's Museum of the East End
This museum offers educational fun for children of all ages. CMEE states its mission is "to spark imagination and foster learning for children of all backgrounds and abilities, and to build strong connections within the East End community by providing playful experiences." What's not to like? 376 Bridgehampton/Sag Harbor Tpke., Bridgehampton. cmee.org
24. Vanderbilt Museum
Besides a museum that has the only Egyptian mummy displayed on Long Island, this fabled Gold Coast estate also boasts a phenomenal planetarium, which was recently renovated. The Vanderbilt gives kids the chance to gaze into the universe and learn about the solar system with a variety of compelling programs. There's also an observatory on the roof that visitors can check out, weather permitting. Families can tour the mansion to see how the other half once lived, and check out the 32-foot-long whale shark in the Habitat Room. 180 Little Neck Rd., Centerport. vanderbiltmuseum.org
Related: "Exclusive: The Strange Case of Long Island's Stolen Mummy Head"
UNPLUG
Since we're a website, it's safe to assume you're reading this on your laptop, smartphone or tablet. Odds are your kids and significant other are also face-down in a screen. The best cure for this rampant Internet addiction? The healing powers of spending time in nature.
25. Muttontown Preserve
This "Mystery Trail" offers the chance for hikers of all levels to take in gorgeous scenic views of Long Island, including the ruins of the late former Albanian King Zog's mansion. Good luck finding it. But press on! The 2.9 mile trail is located near Syosset. Muttontown Lane, East Norwich. nassaucountyny.gov
26. Otis Pike Fire Island High Dunes Wilderness
This eight-mile stretch of all-natural barrier beach offers a glimpse of what Long Island's outer beaches used to look like before they were developed. Aside from hiking, backpackers can also go camping in the 1,380 acres of the only federally designated wilderness preserve in New York State. It's named after Long Island Congressman Otis Pike, who served nine terms. Accessible via Watch Hill on Fire Island and Smith Point County Park. nps.gov/fiis
27. Theodore Roosevelt Sanctuary & Audubon Center
Home to a wide range of bird species from egrets to red-tailed hawks and a plethora of songbirds because it's part of the Atlantic flyway, the Theodore Roosevelt Sanctuary offers a wonderful learning environment for all ages. The center aims to create the best hands-on experience for all audiences to foster a deeper appreciation of the natural world. 134 Cove Rd., Oyster Bay. ny.audubon.org
28. Long Island Pine Barrens
This 100,000-acre stretch of protected wilderness in the middle of Suffolk County was designed to prevent the pollution of the underground aquifers that supply our drinking water, but the preserve is also open to hiking. There are various entry points including Manorville, Rocky Point and Quogue. pinebarrens.org
29. Caumsett State Historic Park Preserve
This waterfront park on a peninsula jutting into Long Island Sound offers some great fishing spots, scenic hiking and biking trails as well as lush gardens. It's easy to get lost in the natural beauty here. 25 Lloyd Harbor Rd., Huntington. nysparks.com
30. Aboretoreums
Long Island, like most suburbs, is known for having well-manicured lawns, shrubs and gardens. But these arboretums take visitors to another world full of beautiful flowers, huggable trees and other plants that aren't grown at typical homes. LI's top arboretums include Planting Fields Arboretum State Historic Park in Great River, Bayard Cutting Arboretum State Park in Oyster Bay, Bailey Arboretum in Lattingtown, Bridge Gardens in Bridgehampton, Old Westbury Gardens and the Clark Botanic Garden in Albertson.
TAKE A TRIP DOWN MEMORY LANE
From the Island's role in the Revolutionary War when the Culper Spy Ring worked behind enemy lines to help Gen. George Washington defeat the British, to being home to Teddy Roosevelt, one of our most beloved presidents, it's often lost on the locals just how much Long Island is steeped in American history. The best way to make the past come alive is taking a family trip to these sites:
31. Sagamore Hill National Historic Site
The former residence of Theodore Roosevelt, Sagamore Hill is one of the most historic sites on the island. During TR's time as president, Sagamore Hill was declared his Summer White House. After a recent renovation, many more rooms are now open to the public than ever before. 20 Sagamore Hill Rd., Oyster Bay. nps.gov
32. Fire Island Lighthouse
Shedding light on what nautical life was like before ships had wireless communication and radar that made lighthouses obsolete, the Fire Island Lighthouse is a must-see. Aside from being extremely illuminating, the views on the boardwalk and from the top of the lighthouse can't be beat. You can see for miles. Maybe you'll spot a whale or two. East of Robert Moses State Park Field 5. fireislandlighthouse.com
Related: "A Beginner's Guide To Summer On Fire Island"
33. Old Bethpage Village Restoration
Like a living time capsule, this collection of 19th-century houses painstakingly preserved in their original condition lets visitors wander freely through our country's past while park staff play the part by dressing up in old timey clothing. They also regularly host Revolutionary and Civil War re-enactments, play old-fashionedbaseball games and present a slew of other events that show how Long Islanders lived in the 1800s. Also on the grounds is the Restoration Farm, which offers organic vegetables, berries, herbs, flowers, eggs and poultry at its farm stand. 1303 Round Swamp Rd., Old Bethpage.  nassaucountyny.gov
34. William Floyd Estate
The Mastic Beach home of this Revolutionary War general and signer of the Declaration of Independence is open for a guided tour of the grounds, a wildlife exhibit and an educational program. Few places on the island offer 250 years of history so well preserved. And no other place still standing on Long Island can say it once hosted both Thomas Jefferson and James Madison. 245 Park Dr, Mastic Beach. nps.gov
35. Sands Point Preserve
In the heart of the Gold Coast is this preserve epitomizing the Gilded Era mansions described so well by F. Scott Fitzgerald in The Great Gatsby. The former Guggenheim Estate features the opulent Hempstead House as well as Castle Gould, which was modeled after Kilkenny Castle in Ireland, and the Falaise Museum. 127 Middle Neck Road, Sands Point. sandspointpreserveconservancy.org
36. The Big Duck
It's a giant duck-shaped store, one of Long Island's most recognizable iconic oddities and a national historic landmark. What's not to love? Every Long Island kid should see the Big Duck at least once in their life. Once upon a time duck farms ruled the roost. 1012 Flanders Rd., Flanders. bigduck.org
MIX IT UP
We would be remiss if this list didn't include some of the traditional kid-friendly things to do on Long Island. But we can get a little more creative than Chuck E. Cheese's and Dave and Busters.
37. Bounce, BounceU
Life may have its ups and downs, but Bounce and BounceU create an exhilarating experience for children to literally bounce for hours. Bounce features a trampoline park and BounceU has a bounce house arena. Both are can't-miss, gravity-defying attractions on Long Island.
38. Monster Mini-Golf
There are dozens of mini-golf courses on LI so we can't list them all for you here. But for those looking for a twist when they want to putter around, check out one of the most unique courses going: Monster Mini-Golf, an imaginative indoor, glow-in-the dark venue. 410-C Commack Rd., Deer Park. monsterminigolf.com
39. Go Karts
There are few more entertaining things to do as a kid than race go-karts. Granting children the best chance to channel their inner Dale Ernhardt Jr. are these three tracks: Pole Position Raceway in Farmingdale, Tiki Action Park in Centereach and Karts Indoor Raceway in Ronkonkoma.
40. Long Island Puppet Theatre
The Long Island Puppet Theatre offers parties, events and puppetry workshops. It is a lock for an afternoon or an evening of laughs and smiles. 10 Heitz Pl, Hicksville. lipuppet.com
41. Laser Tag
This is good for kids hooked on video games. It's like they've entered a live-action, first-person shooter game! And no one gets hurt in this adrenaline rush. Some fun places to get in on the action include Q-Zar in Carle Place, Laserland of Long Island in Commack and Laser Kingdom in Farmingdale and Coram.
42. Build-A-Bear Workshop
Kids love stuffed animals. They also love things that are hands-on. Build-A-Bear Workshop encourages kids to customize their own stuffed animals from beginning to end. They have locations at Roosevelt Field Mall in Garden City and Smith Haven Mall in Lake Grove.
43. Take an Art Class
There's only so much you can do to keep the kids from getting bored. And if they do, they might just end up coloring your walls–or driving you up one out of frustration. Here's a way to let their creative juices flow in a controlled environment. There are several kid-friendly paint classes aimed at teaching children to make art creatively and imaginatively. Two art studios that come to mind are Picasso Kidz in Greenlawn and Not Just Art in Oyster Bay.