Anti-theft Clothing Tags

In 1966, Woodbury engineer Arthur Minasy invented a clothing tag that triggered an alarm if someone tried to sneak the item past a cashier launched a $40 billion industry which has helped protect everything from Italian salamis to Wall Street bonds. The original device measured five inches, sported a C battery and weighed half a pound.
Ben & Jerry's Ice Cream
Bennett Cohen and Jerry Greenfield, lifelong friends from Merrick, founded in 1978 one of America's favorite ice cream brands known for its inventive flavor combinations and for being a pioneering force in the annals of socially conscious business management.
Ellio's Pizza

In 1963, Elias Betzios and George Liolis started this pioneering frozen pizza brand in Great Neck. Now distributed by a German company, it was first tasted in the kitchens of Long Island, securing itself as a staple in suburban homes for decades to come.
Pirate's Booty
Marveling at how cheese was not listed as an ingredient in cheese puffs, Robert Ehrlich of Sea Cliff set sail in 1987 to plunder his piece of the bloated American snack-food market armed with all-natural white-cheddar cheese rice and corn puffs — a healthier alternative to traditional junk food.
Maglev
Brookhaven National Lab scientists Gordon Danby and James Powellfirst published a paper in 1966 on superconducting maglev — a mode of transportation that uses the fields generated by superconducting magnets to levitate and move trains. While Maglev trains are used in cities around the world, none are on LI.
Miracle-Gro

Horace Hagedorn of Sands Point developed this product in the 1940s. Besides having a catchy name, the liquid fertilizer proved successful because of its ability to help weak plants
receive nutrients quickly, and the fact that it is less likely to burn plants.
The Miracle Mop
Working from a small office in her Smithtown home, Joy Mangano in 1989 invented the self-wringing mop that became the first in a long line of products that the Home Shopping Network star patented.
Monkey KID Sensor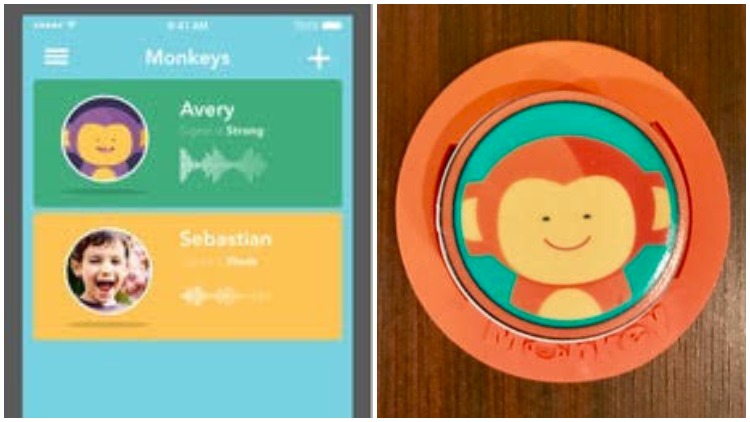 Manhasset mom Kim Gavin launched in 2017 a disposable beacon that can be fastened to a child's clothing. It pairs with a smartphone app that alerts parents when their children wander outside of a perimeter, using geo-fencing technology.
MRI
Dr. Raymond Damadian, the founder of Melville-based Fonar Corporation, invented the Magnetic Resonance Imaging (MRI) scanner in 1971 to detect cancer and has since racked up honors for the discovery. But in 2003, the Nobel Prize for the MRI went to Paul Lauterbur, a professor of chemistry at Stony Brook University, and another scientist. The debate over who invented the MRI first is unsettled.
Nomorobo
Aaron Foss of Port Jefferson man created in 2013 an app that intercepts and filters out illegal prerecorded calls using technology to "blacklist" robocaller phone numbers and "whitelist" acceptable numbers.
Segway

The electric self-balancing scooter unveiled in 2001 is this Rockville Centre native Dean Kamen's best-known invention, but it's far from his only one. His company has patents on more than 400 other innovations worldwide, from a wheelchair that climbs stairs to the insulin pump.
The Submarine Tunnel

Thirteen years before the Brooklyn Bridge was built, Amityville resident Joseph de Sendzimir proposed in 1857 a tunnel running under the East River, connecting Brooklyn and Manhattan. It required no demolition, as it was simply a series of ironclad chambers laid on the riverbed connected by large tubes.
ThermoLift

Peter Hofbauer and Paul Schwartz developed this product at the Advanced Energy Center at Stony Brook University in 2012. It's s a natural gas-driven air conditioner and heat pump that aims to replace heating, cooling, and hot-water systems with a single appliance.
Trangleball

Mark Miller in 1953 invented a game on Fire Island in which players volley a small ball off the surface of a pyramid-esque structure at the center of a circular court. Sort of like a cross between handball, beach volleyball, and tennis.
TV antenna
Marvin Middlemark, an Old Westbury tinkerer, invented the "rabbit ears," helping millions of Americans get the fuzz, or some of it, out of their pre-cable television reception. Though not completely original – the design was based on the dipole antenna invented by Heinrich Hertz in 1886 – the update was the most commercially successful of his 62 patents.
Video Games
Physicist William Higinbotham created Tennis for Two in 1958 to make the Brookhaven National Laboratory visitors' day more interesting. It wasn't sold commercially, like Atari's like-minded game "Pong," one of the earliest video games, which wasn't released until '72.
Water Skis
Fred Waller, a Huntington native and special effects man at Paramount Pictures' Astoria studios back in the 1920s, first imagined water skis as a way to mount motion picture cameras behind speedboats in 1925. In the end, riding the things proved to be too much fun to waste on cinematography.
Wireless radio
Guglielmo Marconi, a one-time Babylon resident and Italian immigrant, pioneered the use of wireless communications between a radio station and ship at sea in 1901. One of those stations, essentially a shack that was moved to Rocky Point, still stands today.
Wireless electricity
Nikola Tesla, the eccentric inventor from Manhattan, is said to have succeeded in wirelessly transmitting electricity at Wardenclyffe Tower in Shoreham in the early 1900s, but his investors balked at his idea to provide electric globally for free. Among his many other inventions are alternating current, the remote control, the neon lamp, and more.