Taking care of a pet teaches empathy and compassion, especially if you involve children in the pet's care. This weekend, have the kids join you on a visit to your local animal shelter/rescue and save a life today! Here are animals available for adoption.
*Double Adoption* You'll always find these two bonded one-year-old sisters, Latte (Adoption #BF4406)  & Spice (Adoption #BF4407), playing side by side and greeting everyone that comes through their door. This dynamic duo loves exploring new places and spaces, finding comfort anywhere they go. They're looking for a cat-experienced home with older children to ease the girls into the next wonderful stage of their life.
*Special Request* Three-month-old Harrison Furred (Adoption #H212288) knows exactly where he is and how he feels about the heroes who took care of him. Now blind due to an eye infection that once caused him great pain, this tenacious survivor is thriving! His latest quest is to tackle feathers and melt the hearts of the fabulous humans who rub his ears. If you're feeling a little lost, find your way to Harrison Furred so he can guide you on all future adventures!
*Double Adoption* Can you handle this much adorable-ness in your home? Four-month-olds Runa (Adoption #BF4502)) and Dino (Adoption #BF4503) are prepared to charm their way straight into their family's heart. Locally rescued, they know how lucky they are to feel safe, and show us their appreciation by purring in harmony as they greet new friends. If you require purrfection in your pair, don't hesitate to pick up Runa and Dino and carry them off to their happily ever after!
Five-month-old Renata (Adoption #WV1018) is the last of her litter to find her forever home, and we're here to make sure she finds the perfect match. This adorable tabby is a bit cautious with new experiences, but she's ready to share all her 'firsts' with you. Give her plenty of ear rubs to welcome her into your heart, she's looking for a loving new best friend!
Oh, tabby wonderfulness! Eight-month-old Jasper (Adoption #E01751) is all the things you didn't even know you could ask for in a cat. Add resilient and survivor to that list because this angel flew in from Hawaii after the wildfires interrupted his life there. His potential adopters are nearby, and they're about to get very lucky!
*Double Adoption* Could Zach (Adoption #E01743) and Toby (Adoption #E01744) be any cuter? Absolutely not! These zesty five-month-old Hawaiian rescues could teach us a thing or two about resilience, but they'd rather entertain you with feather chasing and treat parties. After traveling over 20 hours by plane to their new beginning, they've figured out life is full of love and surprises—which they want to share with you!
Four-year-old Dusty (Adoption #H209784) was feeling down on his luck about his previous home. Too many dogs had him feeling discouraged but Animal League America is here to remind him that the right home is still out there. A quiet, patient, and loving household is everything he's been missing and hoping to find once again. You'll be his ultimate hero and best friend if you promise to always make him feel safe and loved.
If you're ready to open your heart and home to any of these fabulous felines, contact [email protected] or visit their Port Washington campus today!
Available for adoption through Lend-A-Paw
Here Kitty Kitty Kitty! Kitty was surrendered by her family late in September. She is a gorgeous 5-year-old that simply loves to play with her toys. She's good with all animals and is front declawed.  
Six-month-old Sal was trapped and rescued by a local rescuer who immediately saw how friendly and sweet he was. He loves to be pet and loves affection almost as much as he adores lying around with other cats in a cat tower. 
Meet the wonderful Dougie! Rescued from the brink of euthanasia a few months ago, Dougie's life took a positive turn, thanks to his incredible foster who has provided him with a nurturing environment. One-year-old Dougie is a bundle of energy and excitement, finding joy in engaging with puzzle toys and indulging in games of fetch. With his puppy-like energy, a backyard where he can run and play would be a dream come true for him. Dougie has learned the ropes of house training and is adept at walking on a leash. While he hasn't encountered other dogs yet, he's on the path to learning social interactions through slow introductions with the guidance of a trainer. 
Willow was rescued from the euthanasia list late last year. This 5-year-old fella is a puppy at heart. He absolutely loves to run around and play with his foster sibling. He is a great companion and loves to go on walks. Willow knows commands, such as sit and going to his crate, which he once was terrified of. He loves all dogs and shows little to no interest in squirrels and cats. If you're looking for your next playful companion, Willow is your boy! 
To apply for any of Lend-a-Paw's wonderful cats and dogs, please fill out an application at lendapawinc.com/adoption or text  (516) 405-0065 for more info.
Jitterbug is an American Staffordshire Terrier Mix who is estimated to be around two or three years old. Jitterbug was initially adopted from Florida, but she was sadly surrendered to the Animal Shelter. Due to her outgoing and friendly nature, she has a tendency to escape and look for new friends. Jitterbug is a social butterfly who enjoys meeting new people. She has so much love to give and is full of energy too! Jitterbug can be in a home with older children and would do well with a family that can help her with her manners. She is an absolute delight, and we know she'll find her perfect home soon.
To adopt this Barbie girl, please call the Smithtown Animal Shelter at 631-360-7575.
With spooky time on its way, Elvira not only matches the black decor but accents the home with casual prowls in the night. She loves to sneak attacks on her siblings and turns into a cuddle purr monster once activated by a few good rubs. Elvira is quick to purr and loves to be pet. Elvira has a wonderful personality and would make a great addition to any home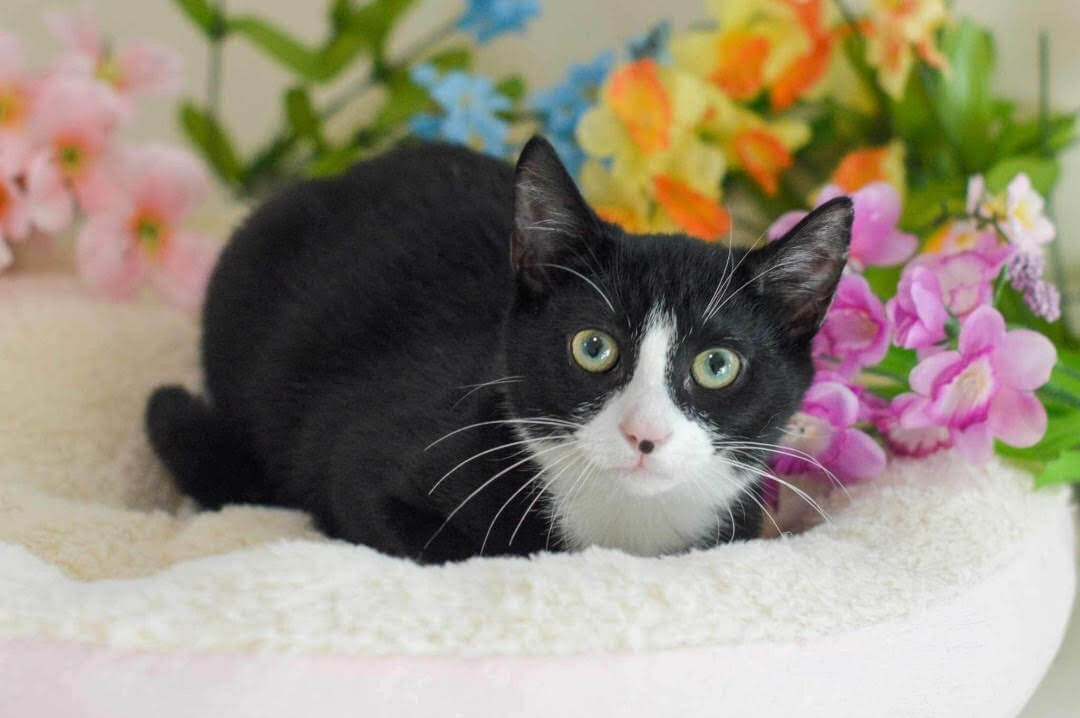 Are you looking for a bestie for your four-legged friend? If so, then Gru is your man! He loves to follow all his four-legged friends around. Gru is your typical kitten who's able to turn everything into a toy. He's super lovable and likes to rest on your chest even though he's getting to be a big boy. He loves to run around the house checking to see what everyone is doing.
Rachel is part of the "Friends litter". She is a sweet and submissive little girl. Rachel enjoys playtime with Ross and Phoebe her siblings. This adorable tabby loves chin scratches and attention from you. Her affectionate side wants all your love as you pet her she will purr and fall asleep in your arms. Let's find this sweet little lady a purrfect home.
To adopt these cute-as-can-be kitties, complete an adoption application here: https://www.tenderlovingcats.org/adoption-application.html
As always, thanks for reading and please remember to always adopt, never shop…pass it on!