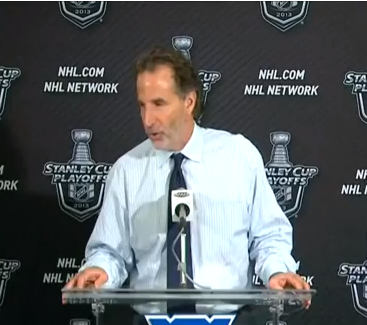 Heads are starting to roll at Madison Square Garden four days after the New York Rangers were knocked out of the Stanley Cup playoffs.
The organization announced Wednesday that head coach John Tortorella was "relieved of his coaching duties," President and General Manager Glen Sather said in a news release.
The Rangers bowed out of the playoffs in disappointing Game 5, losing to the Boston Bruins 3-1 after they staved off elimination two days earlier in a spirited overtime victory after falling behind in the series 0-3.
BREAKING NEWS: The #NYR have relieved John Tortorella of his coaching duties…details to follow

— New York Rangers (@NYRangers) May 29, 2013
Tortorella, the top winning U.S-born coach in NHL history (410 victories), was named the 34th coach in team history in Feb. 2009.
He arrived at the Garden with a Stanley Cup Championship on his resume. Tortorella guided the Tampa Bay Lightning to a 46-win season during the 2003-2004 campaign, claiming the franchise's first title in its history.
Tortorella also served as an assistant coach for the Rangers in the 1999-2000 season.