20 of the Best Chocolate Shops on Long Island
Cedarhurst
Sweets for breakfast (brownies, muffins, cinnamon buns), coffee and hot chocolate, holiday chocolates
Cafe Chocolat is the place to go for freshly baked pastries and morning coffee. But it's far from your average cafe — it also sells delicious chocolates that can be gift wrapped for all occasions.
Farmingdale
Chocolates, hot cocoa bombs, cake, decorating supplies
The Chocolate Duck knows all about decorating its chocolates so they not only taste awesome but look awesome. It's known for selling specialty cake-decorating and chocolate-molding supplies.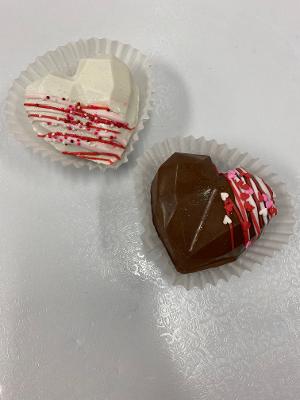 West Hempstead
Kosher chocolates, gift baskets, other candy and gifts
At this one-stop shop for gifts for your valentine, customers can fill a gift basket with gourmet kosher chocolates or mix chocolates with other items, such as candies, nuts and dried fruits, and a selection of glass, metal, wood, and ceramic gifts.
Stony Brook, Huntington, Plainview, Bellmore
Molded chocolates, boxes of chocolates, workshops at chocolate fountain
Chocolate Works puts the chocolate-making in your hands. Use the huge chocolate fountain or choose from a variety of Belgian chocolate boxes and pre-made themed chocolates.
Stony Brook
Boxes of chocolates, fudge, fondue kits, party favors
This family-owned business has won awards for its Fat-Ass Fudge. It also has lots of chocolate, as well as a Fondue For 2 bag with chocolate fondue, marshmallows, brownies, and other treats for chocolate dipping.
Oceanside
Molded chocolates, boxes of chocolate
Emile's Candies has been making its chocolate with German family recipes since 1953. Handmade on the premises with original machinery.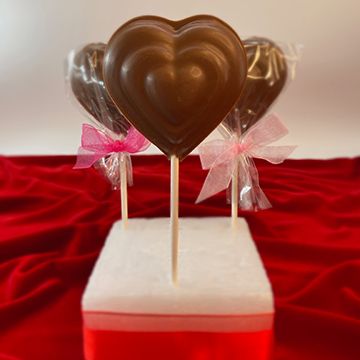 Garden City, Huntington Station, Lake Grove
Chocolate bars, boxes of chocolates
Godiva is a familiar name because of its heart-shaped boxes of chocolate that appear in drugstores each year. But did you know Godiva has three LI stores? Go there for the 95-year-old, Belgian chocolate company's best selection.
Wantagh
Molded chocolates, melting wafers, decorating supplies
Grandma's Candy Kitchen sells premade chocolates and chocolate wafers, which you can either melt and use as fondue for pretzels, strawberries, etc., or use with chocolate molds (which the shop also sells) to make shaped chocolates.
Island Park
Hot cocoa bombs, truffles, chocolate gift baskets, other candies and ice cream
Hope's Land of Candy creates an old-timey atmosphere for families to enjoy while grabbing some candy, chocolates, or ice cream. It also sells chocolate bark, truffles, clusters, peanut butter cups, and more, plus gift baskets for every holiday.
Coram
Chocolates, hot cocoa bombs, melting wafers, fudge, chocolate-covered fruit, edible cookie dough, decorating supplies
Kerri's Candies has a wide array of Valentine's Day treats, including the new, trendy hot cocoa bombs and edible cookie dough. The store also sells its signature edible bottles: Jack Daniel's or Heineken "bottles" made entirely from sugar or chocolate.
Port Jefferson, Huntington, Babylon, Patchogue
Chocolates, toffee, caramels, truffles, fudge, caramel corn and brittle, ice cream
The Kilwins chocolate company, based in Michigan, debuted in 1947 and has locations from the Midwest to the East Coast, four right on Long Island. Their confections and ice cream are made fresh from original recipes.
Massapequa
Molded chocolates, chocolate lollipops, ice cream sundaes
Krisch's Restaurant and Ice Cream Parlor celebrated its 100th anniversary last year. While known for its ice cream sundaes and diner food, the old-fashioned spot also sells chocolate, especially around holidays.
Greenvale, Great Neck
Boxes of chocolates, gift platters, chocolate bars, party favors
The Lazar family's Swiss-style chocolates originated in Europe more than 70 years ago. Now, the fourth-generation chocolate makers sell out of two LI locations, with plenty of chocolatey goodness.
Riverhead
Wrapped chocolates, boxes of chocolates, chocolate bars and sticks
At world-famous Lindt Tanger Outlets shop in Riverhead, you can mix and match your favorite flavor, spherical chocolates in a custom bag.
Mattituck
Chocolates, other candy and gifts Love Lane Sweet Shoppe sells Godiva chocolates, candies, and an assortment of other custom gifts including pillows, platters, vases, and photo frames.
Aquebogue
Boxes of chocolates, chocolate bars, fudge, coffee, cakes and pies, ice cream, shakes
North Fork Chocolate Company has a wide array of sweet treats at its quaint and welcoming East End store, where chocolatiers homemake all their chocolate.
Sayville
Chocolates, truffles, hot cocoa bombs, party favors, other candies
Sayville Chocolatier's Belgian chocolates have been in the community for 40 years. It sells Valentine's Day treats, plus fruits and pretzels dipped in chocolate.
Carle Place
Molded chocolates, boxes of chocolates, chocolate bars, party favors and gifts
Schwartz Candies, founded in 1939 in Manhattan, now offers its variety of chocolates, candies, and gifts at its Long Island store.
Plainview
Chocolates, cakes, other candies and gifts
Sugar Crazy is a wonderland for kids, with colorful candies, toys, and other treats. Other offerings include chocolate pizza, chocolate-dipped pretzels, and custom cakes.
Islip
Chocolates, truffles, shakes, other candies and gifts
Sugared Up has something for everyone's sweet tooth, from fruity dummies to rich chocolate. The shop is self-serve, so you can fill your own bag of candy.
For more food and drink coverage, visit longislandpress.com/category/food-drink
Sign up for Long Island Press' email newsletters here. Sign up for home delivery of Long Island Press here. Sign up for discounts by becoming a Long Island Press community partner here.