Just days before the new Nassau Coliseum opens to the general public, officials Friday unveiled the $165 million renovated arena to dozens of dignitaries and business leaders, marking a new era for Nassau County's main entertainment attraction.
Nearly two years after the "Old Barn" shuttered its doors, officials hosted a ribbon-cutting ceremony at the refurbished 13,900-seat arena and proclaimed the Nassau Coliseum reborn. It will officially reopen to the public on April 5.
"What a great day for Nassau County," County Executive Ed Mangano told about 100 people gathered inside the venue on Friday, praising the arena as a "wonderful, state-of-the-art" building.
Construction on the revamped building began on Aug. 5, 2015, the day after Billy Joel closed out the arena. The renovation cost $165 million, and an additional $100 million will go toward further construction around the coliseum, which has been renamed NYCB Live Nassau Veterans Memorial Coliseum. Still awaiting development are a new parking garage and a Memorial Sloan Kettering Cancer Center building.
The most striking change is the arena's exterior, which has been outfitted with rows upon rows of aluminum fins meant to evoke the imagery of Long Island's famed beach dunes—with some on social media jokingly comparing its new, modernized facade to an otherworldly, extraterrestrial vessel. Those behind the coliseum's redesign effort hope visitors will embrace its reincarnation as much as its beloved predecessor, once a venue so cozy, so familiar and welcoming, that fans often referred to it as a second home.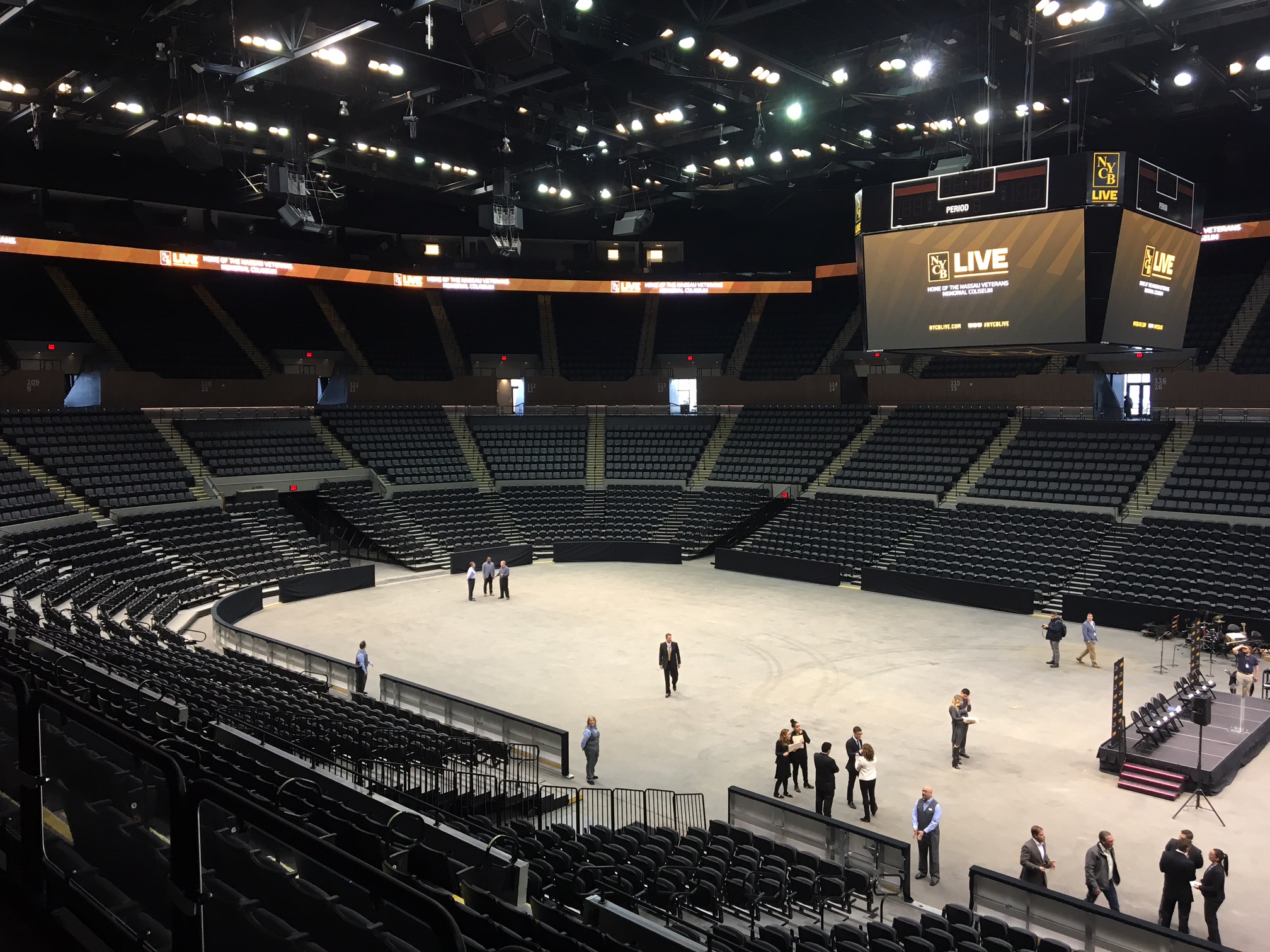 Among its other features are widened concourses, high-definition screens, brand new seats, new concessions boasting Long Island fare, and revamped restrooms. The developers have also dedicated eight seats to veterans, first responders and 9/11 victims that will always remain empty as a memorial to their sacrifices.
Bruce Ratner, CEO and chairman of Forest City Ratner Companies, the arena's developer, referred to the coliseum as the "Eiffel Tower" of Long Island. He promised first-class acts, beginning with Joel on April 5, that will "rival anywhere in the world."
Ratner noted that Mangano "saw the future" of what a revived Nassau Coliseum would look like, and credited him and the county for playing important roles in bringing the project to life.
The coliseum renovation represents a high point for Mangano following a tumultuous five months, punctuated by his indictment on bribery charges last October, to which he pleaded not guilty. With an impending federal trial looming, it's unclear if Mangano will pursue re-election this fall.
Developing a new arena, originally with the hopes of keeping its longtime resident NHL hockey team the New York Islanders in the county, had been a confounding issue for Mangano and his predecessor, Tom Suozzi, who's now a congressman.
Mangano recalled the various attempts at reinvigorating or rebuilding a new arena, even acknowledging that "all did not enjoy enough support to make this happen."
"It was clear the taxpayers did not want to fund this beautiful arena, I don't know why," he said, referring to a $400 million reconstruction that was decisively rebuked at the polls.
The remodeling finally came after years of debate over the future of the old coliseum and failed bids to have the decaying arena, which opened in 1972, replaced. The Town of Hempstead rejected an ambitious multi-use Light House Project, as well as a later attempt to have taxpayers fund an overhaul. With the Islanders lease at the arena set to expire, the franchise in 2015 officially moved to Brooklyn's Barclays Center, the home of the NBA's Nets.
Yet since then, the Islanders' home attendance numbers have fallen and the Nassau Coliseum's resurrection has sparked a resurgence of hope among some fans that the Islanders could return to Long Island and its former, now upgraded, abode.
Mangano reportedly met with Islanders executives last fall to discuss a possible return to the venue. Last month, Bloomberg identified Belmont Park in Elmont as another potential destination.
Though there were no blatant calls from Mangano on Friday for the Islanders to make a triumphant return, the void the franchise has left undoubtedly hung over the occasion.
"We'd like to see the Islanders come back," Nassau County Legislature Presiding Officer Norma Gonslaves, a Republican, told the audience.
For now, the coliseum will go on without the Islanders, but has no shortage of other sports and musical acts performing in upcoming weeks and months.
The arena has already booked four events in its first week, including Long Island "Piano Man" Joel. Future acts include Ringling Bros. and Barnum & Bailey Circus, which will hold its final-ever show here, Metallica, Roger Waters, Bruno Mars, and a much-hyped mystery performer in September.
The arena will also play home to the NBA development league team, the Long Island Nets.
Featured Photo: NYCB Live Nassau Veterans Memorial Coliseum (Long Island Press / Rashed Mian)