Originally the ancestral home of Native Americans and later settled by Europeans during the 1600s, Long Island is rich in history and loaded with folklore, myths and urban legends. From ancient Native American burial grounds to remnants of the Revolutionary War to Gatsby-era mansion estates, Long Island is hallowed ground—the stage for countless triumphs and tragedies throughout the centuries.
It's no wonder some tales have thrived just as long—along with past inhabitants.
Herein lies a guide to 13 of Long Island's most creepiest and prolific haunts. 1. Mount Misery & Sweet Hollow Road, Melville/Huntington
Various tales of horror and dread surround this winding incline through dense woods and up alongside a hilly precipice, some of which are detailed in Weird New York: Your Travel Guide to New York's Local Legends and Best Kept Secrets by Chris Gethard and Long Island's Most Haunted: A Ghost Hunter's Guide by Joseph Flammer and Diane Hill, among other books.
One legend has it there was a hospital here that burnt down sometime during the 1700s or 1800s—with some patients and staff still trapped inside—only to be rebuilt on the same site to tragically burn down again. Another speaks of a deranged nurse who set the blaze and roams the woods with or without a number of faceless children. Some claim to have seen burning spirits fleeing from the grounds, accompanied by screams.
Then there's the legend of the mass suicide—in which several teenagers hung themselves beneath the Northern State Parkway overpass. Visitors who honk their cars' horns or flash their headlights three times can see their lifeless bodies, it goes. A shadow figure and glowing ghost-woman known as the Lady in White—believed by some to be a depressed patient who set the hospital afire, and in doing so, killed herself—can also reportedly occasionally be seen. Some profess her to be Mary, killed by a car or murdered on the road, who haunts a nearby graveyard.
Then there's the mysterious gypsy woman dressed in red, who appears out of thin air, roaming the hills and trails. There's also the tale of the phantom police officer who is missing the back of his skull.
A Suffolk County homicide detective tells the Press the mutilated body of a child was discovered on Sweet Hollow Road in 1976.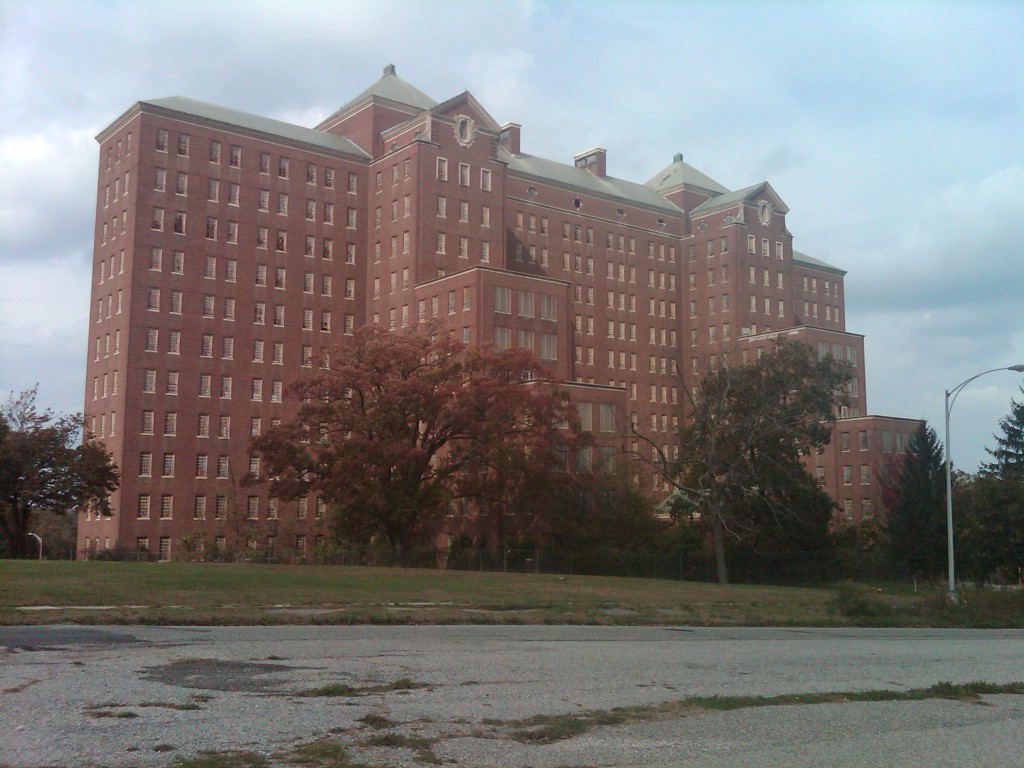 2. Kings Park Psychiatric Center, Kings Park
Established in 1885 on more than 800 acres of land, Kings Park Psychiatric is a mini city of restless, anguished souls. Once home to more than 9,000 patients housed in more than 150 buildings, the complex became a self-sufficient farm community. It had a library, firehouse, morgue and cemetery. Most of the compound has fallen into disrepair, but the screams, moans, banging and clanging continues, eternal reminders of the pain suffered amid its walls. Electric shock therapy, insulin shock therapy and prefrontal lobotomies were performed regularly at Kings Park Psychiatric. There is an extensive network of underground tunnels throughout the grounds connecting the buildings—the sites of countless inhuman atrocities of torture and abuse.
3. Lake Ronkonkoma
LI's largest freshwater lake, Lake Ronkonkoma is awash with legends and stories, from tales it's infested with piranha to the belief it is bottomless, has magical healing powers or is connected to the Long Island Sound and Great South Bay via underground channels. Lake Ronkonkoma is a kettle lake, formed by the recession of glaciers and more than 60 feet deep. Historically, the lake was known as a highly sacred site of religious rituals for ancient Native American Indian tribes, who would travel 100 miles or more in pilgrimages to undergo vision quests on its shores, according to Native New Yorkers: The Legacy of the Algonquin People of New York by Evan T. Pritchard.
Related: 5 Paranormal Oddities Reported on Long Island
There are also various versions of stories about the lake's infamous Indian princess, "The Troubled Spirit of the Lake," as described in 1967's Heather Flower and Other Indian Stories of Long Island by Verne Dyson. One tale speaks of a Native American maiden sacrificed in its waters to appease a god. Another tells of the Lady of the Lake, a Native American princess betrothed and in love with a member of her tribe who was murdered by a settler on the eve of their wedding—so she tied rocks to her ankles and committed suicide in the middle of the lake. Her body was never found, the legend goes, though she returns annually to bring another male to his watery death in revenge for her love's slaying. The phantom princess can sometimes be seen, so it continues, lamenting along the shore and luring future victims to their demise. At least one male drowns in Lake Ronkonkoma each year, the legend goes—recanted in various forms through a litany of books, including Haunted New York: Ghosts and Strange Phenomena of the Empire State by Cheri Revai and Heather Adel Wiggins.
Related: 5 Real-Life 'Stranger Things'-Montauk, Long Island Parallels
Bizarre lights, sounds and whirlpools are also rumored to emit from Lake Ronkonkoma's spiritual waters, further manifestations of her eternally broken heart.
4. Raynham Hall, West Main St., Oyster Bay
Named after Raynham Hall in Norfolk, England—which is infamously haunted by the Brown Lady, captured in a 1936 photograph—this mid-18th century Oyster Bay home of the Townsends was confiscated by the British during the Revolutionary War and served as headquarters for the Queen's Rangers, led by Lt. Col. John Graves Simcoe. Simcoe fell in love with Sally Townsend, who overheard he and British Major John Andre, a frequent guest, discuss a plot involving Benedict Arnold, then one of Gen. George Washington's most trusted generals. Sally told her brother who, as a member of the Culper Spy Ring, relayed it to Washington, according to 1989's Haunted Houses USA by Dolores Riccio and Joan Bingham. Andre was hung for treason but his spirit remains behind, contends Spirits of '76: Ghost Stories of the American Revolution by Daniel W. Barefoot—along with the ghosts of Sally and Simcoe.
5. Katie's, West Main Street, Smithtown
Take a stroll down West Main Street in Smithtown, stop in to Katie's, and say hi to bartender Charlie Klein who is about 115 years old—give or take a few years. He may be missing a limb or two and he might knock a few glasses off the shelves. For years, staff and patrons at this local bar—which has been featured on A&E's Paranormal State—have reported strange occurrences, from swinging doors to apparitions. The property has a long history. A hotel burned down in 1909 on this spot, reportedly killing a victim in the basement. Other tales claim a 16th century murderer haunts its corridors. But the most sociable ghost is Charlie, believed to be a bootlegger and bartender during the 1920s Prohibition era who lived across the street from Katie's and took his own life.
6. Morgan Hall, Route 107, Glen Cove
Built in 1910, the former estate of financial tycoon J.P. Morgan is haunted by the ghost of his young daughter Alice, who succumbed to typhoid fever in the mansion, according to Haunted Places: The National Directory by Dennis William Hauck. The place was utilized by the Russian Embassy for years afterward before turning into a Catholic school and convent in the 1960s. Alice's spirit, the book contends, has appeared wearing a long black dress and can be heard walking in the attic and corridors.
Related: Long Island Haunted Bus Tour Debuts
7. Wickham Farmhouse, Route 25, Cutchogue
The farmhouse, built in 1704, is one of the oldest English-style houses in New York State. On June 2, 1854, however, it became the site of a brutally vicious slaying. James and Frances Wickham, along with a 14-year-old servant boy, were axe-murdered in their bedrooms by a 21-year-old Irish farmhand named Nicholas Behan who, following an intense manhunt, according to The New York Times archives, was discovered hiding in nearby woods, put on trial, hung and buried in an unmarked grave. Descendants witnessed a ghost standing over their bed in 1988, according to Haunted Places: The National Directory by Dennis William Hauck, and sealed off the bedroom.
8. The Normandie Inn, Smithtown & Lakeland Ave., Bohemia
Originally built as a residence for a Czech baron in the 1920s, according to a 2008 Long Island Business News article, it became a speakeasy during Prohibition and the Hotel Chateau La Boheme before its last incarnation as a restaurant. The Gothic-style structure on the corner of Smithtown and Lakeland has been boarded up since 2004 and is currently once again up for sale. The Normandie Inn is rumored to be haunted by a woman named Maria, who was allegedly strangled to death in the upstairs back bedroom and heard walking the hallways and knocking on visitors' doors when it was a hotel. There have also been reports of cold spots and other apparitions. Its most recent owner told LIBN the place's previous owner informed him that long-silent room service bells once began ringing without explanation and footprints once appeared on a just-shampooed rug in a locked bedroom.
9. Reid Ice Cream Grounds, Atlantic Ave., Blue Point
In 1966, the lifeless body of a murdered 20-year-old go-go dancer/part-time bank teller was discovered here in a sump, her hands and feet bound, her throat slashed. Legend says she's never left.
10. Country House Restaurant, Route 25A, Stony Brook
Besides its delicious food and romantic atmosphere, the Country House Restaurant serves patrons and visitors a smorgasbord of history. Originally built as a farmhouse in 1710, the place was purchased by Thomas Hadaway, a prominent English-American actor and comedian in 1838, according to Stony Brook by the Three Village Historical Society, who was noted for throwing parties involving the occult. Many séances were conducted here, with those in attendance including renowned LI artist William Sidney Mount. Mount, in his notebooks and diary entries, believed he was able to communicate with the 17th century Dutch Master Rembrandt, who gave him advice through letters and influenced his work, according to Haunted Visions: Spiritualism and American Art by Charles Colbert.
The Country House is haunted by the spirit of a woman named Annette Williamson, who is believed to have been murdered near a fi replace in one of the restaurant's many rooms during the Revolutionary War, its present owner Bob Willemstyn tells Ghosts of Long Island author Kerriann Flanagan Brosky and LI paranormal researcher Joe Giaquinto on a segment of their blog talk radio show The Kerriann and Joe Show. Willemstyn says he has personally witnessed Annette's full apparition, that her spirit regularly blows out light bulbs and causes electricity flashes, and that other spirits dwell the premises as well.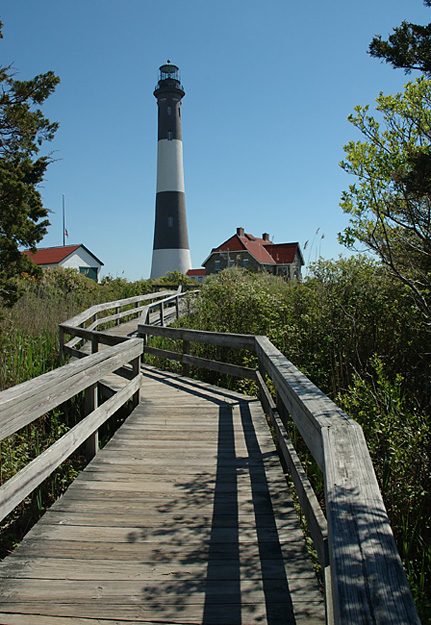 11. Fire Island Lighthouse, Fire Island
The original lighthouse, standing 74 feet high, was constructed of stone in 1826 and served as a beacon to distressed whaling and merchant ships for about 30 years. It was replaced by the current lighthouse, built in 1858, which is rumored to be haunted by a curator who committed suicide prior to its resurrection.
12. Winfield Hall, Crescent Beach Road, Glen Cove
The former 62-room Italian Renaissance mansion estate of Frank Winfield Woolworth was allegedly a hotbed of occult activity, according to Haunted Places: The National Directory by Dennis William Hauck, and its owner died just two years after it was built in 1917, of infected teeth. Woolworth's daughter Edna committed suicide behind its ornate walls, and former students of Grace Downs Model and Air Career School—which had a home in the estate during the 1960s and early 1970s—speak of her bedroom always being locked, yet the sound of moving furniture emanating from within.
13. Southampton Campus Windmill, Stony Brook University
Built in 1712, the gray-shingled, three-story windmill at Stony Brook University's Southampton campus stands as one of LI's oldest. Relocated in 1890 from Southampton Town, where it served as a landmark for seafaring ships, to its present location as a part of the former Claflin Estate, the windmill was also once a former cottage and housed such guests as playwright Tennessee Williams, who reportedly penned one of his plays during his lodging. According to campus lore, the owner's daughter had a playroom inside the thing, and one day she fell down the windmill's steep interior stairs, broke her neck and died. The 8- or-9-year old girl is still there, say students, and her face can be seen peering from its various windows. Students also report to the Press the eerie feeling of being watched as they pass it by.
BONUS HAUNT: Amityville Horror House, Ocean Avenue, Amityville
No Long Island Haunted House list would be complete without this demonic gem. Was it madness or evil spirits that led Ronald DeFeo to murder his family here in 1974? George and Kathy Lutz, who bought the place a year later, believed the latter. They literally left screaming, wrote a book about the house's possession, signed a movie deal and solidified the place as a virtual gateway to hell. Hoax or truth? The world-renowned ghost hunters and psychic mediums, the Warrens, back up the claims. That's enough proof for me.
MAIN ART – HORRIFIC: Myths and urban legends abound about Melville/Huntington's Mount Misery and Sweet Hollow Road, from ghostly figures to haunted graveyards to a mass suicide, phantom horses and a police officer missing the back of his skull. (Jaclyn Gallucci / Long Island Press)